Author

Darrel Gilbertson, on why he works.

Let me ask you a question……..

Why do you work?

To make money?

To have a good reputation in the community?

Because you "have to"?



A lot of us fall into a rut of working for money. What happens when you work for money? When we work for money, our attitude shows through our best attempts to "take care of the customer" and those around will soon be repelled from us. Think about it, we all know that person who is just working themselves to the bone for the money.

I believe that money is a byproduct of our labors. Here are just a few references in Proverbs about diligence in work and the reward of work:

Proverbs 11:18 - "Bad work gets paid with a bad check; good work gets solid pay."

Proverbs 12:14 -Well-spoken words bring satisfaction; well-done work has its own




reward.

Proverbs 12:24 -The diligent find freedom in their work; the lazy are oppressed by work.

Proverbs 14:23 -Hard work always pays off; mere talk puts no bread on the table.

Proverbs 16:3 -Put God in charge of your work, then what you've planned will take place.

Proverbs 16:11 -God cares about honesty in the workplace; your business is his business.

However Proverbs also warns not to chase riches:

Proverbs 23:4-5 -Don't wear yourself out trying to get rich; restrain yourself! Riches disappear in the blink of an eye; wealth sprouts wings and flies off into the wild blue yonder.

What's my point? It is futile to be motivated in our work by the love of money. What is at the bottom of working for money? A lack of trust in God's provision.

Mathhew 6: 24-33 24 "You can't worship two gods at once. Loving one god, you'll end up hating the other. Adoration of one feeds contempt for the other. You can't worship God and Money both. If you decide for God, living a life of God-worship, it follows that you don't fuss about what's on the table at mealtimes or whether the clothes in your closet are in fashion. There is far more to your life than the food you put in your stomach, more to your outer appearance than the clothes you hang on your body. Look at the birds, free and unfettered, not tied down to a job description, careless in the care of God. And you count far more to him than birds. Has anyone by fussing in front of the mirror ever gotten taller by so much as an inch? All this time and money wasted on fashion—do you think it makes that much difference? Instead of looking at the fashions, walk out into the fields and look at the wildflowers. They never primp or shop, but have you ever seen color and design quite like it? The ten best-dressed men and women in the country look shabby alongside them. If God gives such attention to the appearance of wildflowers—most of which are never even seen—don't you think he'll attend to you, take pride in you, do his best for you? What I'm trying to do here is to get you to relax, to not be so preoccupied with

getting,

so you can respond to God's

giving

. People who don't know God and the way he works fuss over these things, but you know both God and how he works. Steep your life in God-reality, God-initiative, God-provisions. Don't worry about missing out. You'll find all your everyday human concerns will be met.

God has made a promise to provide all of our needs and he will never let you down.

So we aren't supposed to work hard?….No…

God loves hard work but for the right reason.

In Genesis 2:2-4 is says "

By the seventh day God had finished the work he had been doing. On the seventh day he stopped the work he had been doing. 3 Then God blessed the seventh day and set it apart as holy, because on that day he stopped all his work of creation." Why was God working?

I believe that it is part God's nature to create, that is one facet of who He is: The Creator. I believe He created you with and for a purpose here on the Earth. He created you with a creative streak just like Him.

When you are doing what you were created for you are no longer doing that thing/activity motivated by fear of lack, or to be well liked. But because there is something in you that drives you to get up at 5:50am on a Saterday morning to do that thing. See, creating and doing good work motivated by the design God placed on your life suddenly creates value for other people's lives. It lifts you and others at the same time.

Bill Johnson says that when you discover who God created you to be you will never want to be anyone else.

God has designed you as a uniquely designed person, so to dedicate you life to anything other than that is not trusting God and telling God, He made a mistake.

For me, personally, developing Aviation Services is what I was designed for! I can't help it. Helping people Be Free, Be Flexible, Be There and Get Home is such a part of who I am that to not do this would drive me crazy, probably to depression. Because this is what God designed me for.

So what are you designed for? What is God's purpose for you? Ask Him, He will show you.

If you want to learn more about God and his design for you, contact me:

dgilbertson@planeconnection.com

or 252-288-3700 ext 700.
Powered by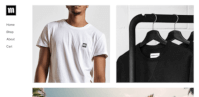 Create your own unique website with customizable templates.